Shopping Basket
Your Basket is Empty
There was an error with PayPal
Click here to try again
Thank you for your business!
You should receive an order confirmation from Paypal shortly.
Exit Shopping Basket
SOOTHING HANDS EQUINE THERAPY
Because Quality of Movement Matters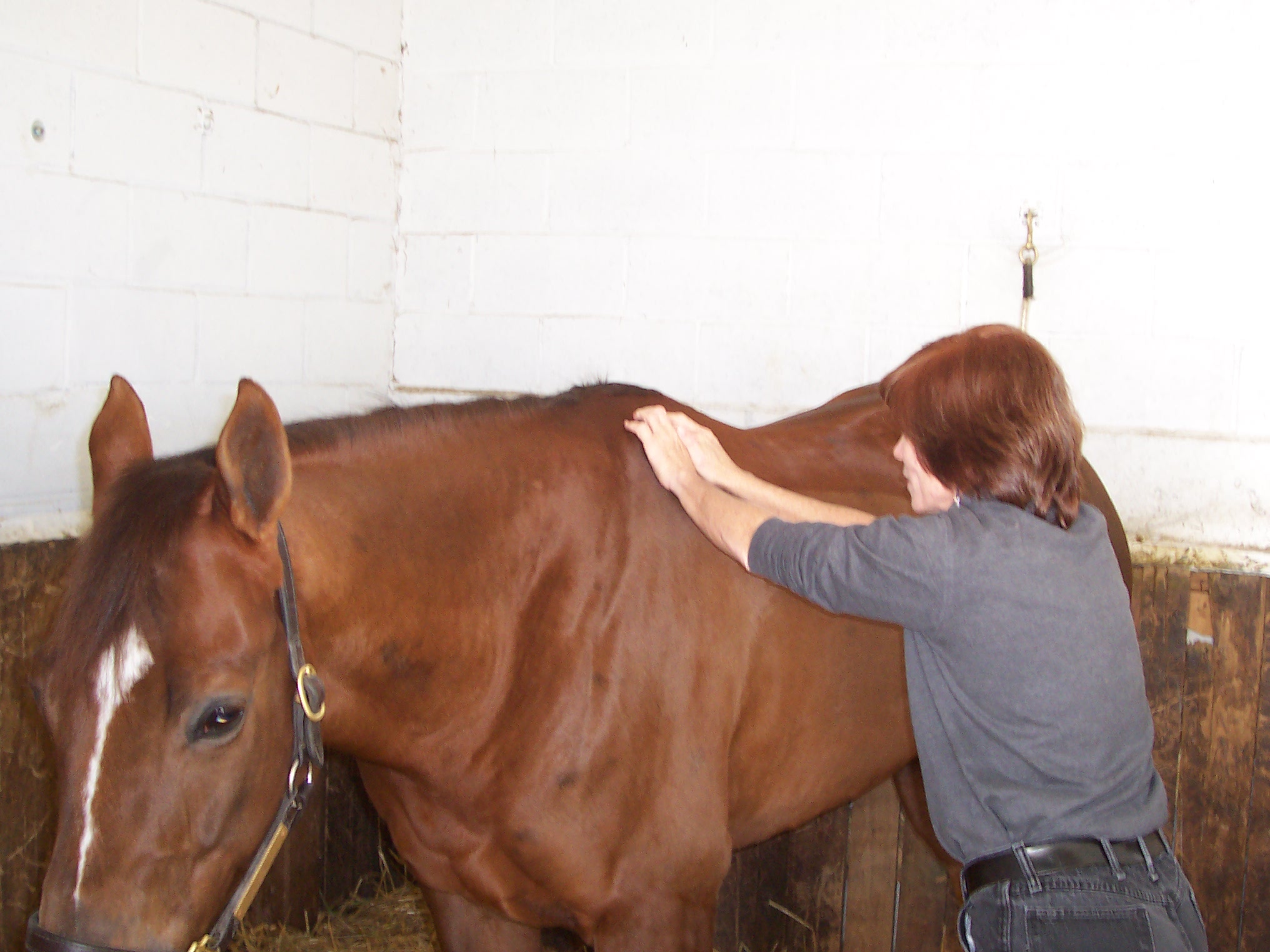 I have been an equine massage therapist for almost 20 years, and I still find that many horse owners don't understand the difference between equine massage and equine chiropractics. The two modalities are similar in that they are trying to address movement and pain problems in horses. However, they are addressing them in two totally different, yet interconnected ways. It is because of this that the questions arise as to when to use one or the other, and which one is better. My answer to those questions are as follows; use both, particularly when initially addressing a problem, and neither is better, because they are doing two totally different things! It would be like comparing apples to oranges; both are tasty fruit, which are filled with vitamins and fiber that our bodies need, do we need both? Is one better than the other?
To keep it very simple - The chiropractor uses a form of manual therapy that uses short lever, high velocity, low amplitude, controlled thrusts to adjust mainly the spine, but other joints as well, with the desire to ensure that the nerves which feed the impulses to the muscles are fully functioning.
- The massage therapist uses a form of manual therapy that uses a variety of strokes and physical manipulation to restore soft tissue, mainly muscles, but also tendons, ligament and fascia, to their best functioning potential. so that the muscles can do their jobs, which is to (at its simplest) move the joints.
As you can see, both are looking at the horse from a different perspective when it comes to deciding what is wrong, and the way to fix the problem your horse may be having. Sometimes they may see different areas as the cause of your problem, sometimes they see that the same area is not functioning properly, but their solutions will be different. That doesn't necesarily make one right or wrong, better or worse.
That is why I recommend using both at least once, to get the best value for your money, as well as to ensure you have fully addressed your horse as the complex system that it is.
So, if you're agreed that you need both, who do you use first? Ultimately it is a chicken or egg issue, but.... in my experience, the client gets best value and the horse gets better faster if you use a massage therapist first. I have come to this conclusion having worked on horses with chiropractors, (I'm not alone in that belief either). I'll outline my reasoning, then you will have some information to help you make your own decision.
The nerves (which the chiropractor is ultimately making the joint adjustments for) are always able to send impulses to the muscles. When muscles aren't functioning optimally, they stop the joints from functioning fully. For the chiropractor to manipulate the joints, they have to loosen up the muscles first, so they do a little massage to facilitate their work. Sometimes it's enough, sometimes it's not. That's why, many times, adjustments "don't hold", and they have to keep coming back. Use the massage therapist first, and the chiropractor can spend more time actually adjusting, and less time manipulating muscles to try and get an adjustment. The adjustments they do will hold, so then there will be fewer adjustments necessary (as well as massages). If I work on the horse a few times and loosen up the muscles, when the chiro does their thing, the horse is usually fixed for good; assuming the underlying cause of the problem has been addressed.
That brings me to address something that drives me insane....and both chiropractors and massage therapists can be found who are guilty of doing this "thing" I'm going to address next. Thankfully they are a minority, but if what I am about to say is true for you, I hope you will stop and think,,,"Does this make sense?".
Here goes...There is no need to see either professional constantly, unless your horse is a high performance horse, or has a chronic health problem (arthritis, navicular are a couple of examples) or has some other chronic problem that can be fixed, such as poor saddle fit, using equipment incorrectly, etc. Any professional who knows what they are doing can give you a pretty good idea how many visits it will take to fix your horse's problem. Once your horse is "fixed", they should stay "fixed"! If you have a chiropractor or massage therapist telling you you need to see them every few weeks, or every month, for the life of your horse. Fire them!
That being said, I try to educate clients, and people who come to my clinics, how to maintain their horses' muscles, as well as how to identify potential problems, and fix simple ones themselves. "An ounce of prevention is worth a pound of cure!" has been my belief.
Hope this helped and look forward to answering any questions you may have.
Categories: None
/